The Polite Society
Unicorn Press, 2017
What is the spirit of our age, and what are the consequences of that spirit? The Polite Society pursues these questions, urging readers to ignore politics in its infamous, decadent sense and focus instead on how we might still work together to flourish together.
"Seamlessly the beautiful poems of Ross White's The Polite Society traverse the page, but then, reading, you are struck by the sense of language as suddenly all the more mysterious—language, that is, as the ultimate system, frighteningly capable of both negotiation and song. If 'the system' threatens an all-encompassing politics, which it might, resistance is found in ourselves, our own imaginations. These poems are the proof."
—Sally Keith, author of River House
"The Polite Society is exactly the kind of work we need to be doing as writers and as human beings. In these gorgeously crafted poems, White examines not only our broken system of government but the systems of thought that broke it—and threaten to break us. He does not flinch, and through his deconstruction of the prejudices we have so politely ignored, White offers the hope of reconstructing a society based on open-eyed understanding."
—Emma Bolden, author of Maleficae
"In poems both brutal and beautiful, Ross White compels us to confront our numbness, our complacency, and our 'burden / of guilt.' In the contexts of colonial history, unchecked police and military forces, and both domestic and global unrest, White's poems revisit and revise notions of the American dream, shedding a bright light on the high cost of engaging in a 'civil' society. All the while, White holds himself, his work, and all of us accountable. His poems point to our shared complicity in the brutalities that mar human interaction, from a troubled father-son relationship to the global forces of imperialism."
—Dilruba Ahmed, author of Dhaka Dust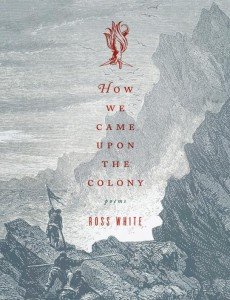 How We Came Upon the Colony
Unicorn Press, 2014
"This is one of the most substantial chapbooks I've ever read. In only seventeen poems, Ross White guides his readers to a colony of the imagination – a world of vivid and coolly unsettling words – that is timeless yet contemporary, specific in detail yet mysterious in design, paradisiacal yet troubled. He is a poet of great intelligence and wit and precision, and he commands an impressive range of forms and modes while sustaining a lucid unity of tone and voice. How We Came Upon the Colony is a powerful, darkly funny, refreshingly un-self-centered, humane, and deeply satisfying work from one of our very best young writers and editors." -Michael McFee
"How We Came Upon the Colony asks just what histories rest in the background. It further interrogates the hierarchies of those histories. IIn reading this book we are travelers moving through eras and between various sites of cultural confrontation, from Rome to the Caribbean to the public schools of North Carolina where we are met with commentary from the Patron Saint of Teachers and Singers to the Colonial Governor of the Bahamas. White is a writer who doesn't just value his own story, but can connect the personal to the collective in a way that illuminates both. Noting, 'What care we take not to disturb the albatross,' White then goes on to ruffle the antique feathers of a bird that in our narratives takes on the sojourner's longings and woes like a sin eater. If this book is any indication, we can expect White to continue to write poems that soothe and rile and ultimately provide us with a numinous experience. How curious that in maturity the albatross is compelled to return to its colony of origin. White in this compassionate and compelling premiere looks bravely back to draw us forward." -Vievee Francis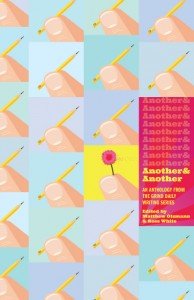 Another & Another: An Anthology from the Grind Daily Writing Series
edited by Matthew Olzmann & Ross White
"Not only will this anthology be delicious fodder for those interested in the state (and the future) of American poetry, the concept should be inspiring to just about anyone who has projects they keep putting off until tomorrow." —Flavorwire
In October 2007, four writers came together to write a new poem each day. What evolved was one of the most compelling writing communities active in the U.S. today: The Grind Daily Writing Series.
The "rules" have evolved a little bit, but they're still basically the same: each day, participants write—and finish—something. The Grind has had over 300 participants, has gone international, and poems drafted in the Grind have showed up in the best journals in the country, in books from amazing publishers, and in anthologies recognizing some of the best poetry in the country.
Another & Another was listed as one of "10 Essential Alternative Anthologies for the Modern Reader" by Flavorwire.
Another & Another: An Anthology from the Grind Daily Writing Series celebrates the first two years of the Grind, featuring poems by:
Dilruba Ahmed
Richard Allen
Larissa Vidal Amir
Mark Andres
Dara Barnat
R. Dwayne Betts
Tamiko Beyer
Tommye Blount
Jonathan Bennett Bonilla
Joshua Buursma
Zena Cardman
Amanda Carver
Ching-In Chen
Nandi Comer
Nicelle Davis
Chiyuma Elliott
Vievee Francis
Emily Kendal Frey
francine j. harris
Tina Mozelle Harris
Jenny Johnson
Henry Kearney IV
Angie Kirby
Megan Levad
Karen Llagas
Chloe Martinez
Jamaal May
Karyna McGlynn
Myron Michael
Sally Molini
Victoria Bosch Murray
Matthew Olzmann
Shann Palmer
Soham Patel
Matthew Poindexter
Khadijah Queen
David Ruekberg
Travis Smith
Rachel Berry Surles
Sheera Talpaz
Mary Jo Thompson
Angela Narciso Torres
Rosalynde Vas Dias
W. Vandoren Wheeler
Arisa White
Ross White
Laurie Saurborn Young