Charm Offensive
Black Spring Press Group, 2023
Charm Offensive, Ross White's debut poetry collection, explores the space between Dickinson's directive to tell the truth slant and the universal reality of seeing the truth slant without knowing it. Charting the ways that tenderness can resolve into dissonance and uncertainty can resolve into transcendence, Charm Offensive crackles with the dangers of being alive and the joys of remaining defiant. At turns playful and surreal, exuberant and somber, these poems urge readers to find something new to trust in the world.
"Ross White's Charm Offensive is an epistemic delight. When White writes, 'I am ready to leave/this body, ready to ascend to star if you beat me out of me,' we understand how deeply the narrator of these poems seeks relief from the self, from the minor (paunchy belly) and major (failing heart) indignities of aging, from the indignity of daily living among indifferent gods. Who among us hasn't looked inside a fortune cookie, hoping for knowledge of a better day? But White knows that the best teacher we have is the love we feel for another, for their beauty and their damage, for the love that accepts our self when we cannot. Finally, and most essentially, these poems are funny, and the ultimate joke is our touchingly unflagging persistence." — Rebecca Hazelton, author of Gloss
"Opening with the declaration 'I like too many things,' Ross White's highly-anticipated Charm Offensive bursts with abundance while being devoted to locating and cataloging the world's marvels. Between ocean quahogs, plane tickets left on a dresser, fortune cookies, EKG machines, and statues of both David and Ronald McDonald—this poet constantly reveals the mythic in unexpected containers. Gods (new and old) surface again and again, as do their absences and eccentricities. These poems dazzle with their wit and panache, then daringly reach for the spectacular and divine." — Matthew Olzmann, author of Constellation Route
"A poet of wry humor and surprising juxtapositions, of history both societal and personal, of the finely-turned phrase that houses duality along with the sudden shock of surprise, Ross White is a true son to both Wallace Stevens and Frank O'Hara. 'Pain is the great teacher,' White writes early in Charm Offensive, and yet what we receive is not a collection that has merely arisen from pain but one in which pain accompanies like an old friend. White is a poet who marries a razor-sharp intelligence with the humorous and even absurd to make a poetry that is entirely original. This is a powerful and welcome new voice to American poetry." — C. Dale Young, author of Prometeo
Valley of Want
Unicorn Press, 2021
Valley of Want is a song in celebration of the difficulty of naming, of seeing, of putting one's finger on the elusive thing one feels is true. Graceful and witty, these poems are grounded in the thrilling stillness of nature and the contours of human connection through our self-performances, through our monsters, through our stories, through the language that makes us unmistakably ourselves.
"Sometimes you have to imagine yourself as the villain, even when you know you're the hero. Don't worry, Ross White has already done that difficult work for you. And in his poems we find the stories we need to survive the very worst of ourselves—as flawed lovers, citizens of a failing nation, willful beasts full of unquenchable desires. But even as 'the wrappers shimmer / ugly in the sun' and a hummingbird crashes into the feeder 'like the phantom / of loss,' these poems carry us towards the richly voiced solace of abundance, the kind where hunger answers hunger with more." —Keetje Kuipers
"An imaginary illness requires an imaginary cure, or so a friend of mind used to say in moments of trial and difficulty. Ross White's poems deal with a number of illnesses, personal and cultural (some of them as real as it gets)—the cure they propose is some compound of bracing honesty, wit, sure music, and generosity-in-spite-of-the-world. His chemistry is good medicine, the best kind, tough and tenderhearted, and I swallowed it down. I feel it buzzing there still in my head, long after I finished this marvelous book. I believe it will keep us all sailing." —David Rivard
"Ross White's Valley of Want is a devastatingly beautiful collection giving voice to the stages of grief, loss, and even the anger we have all felt as we scroll our screens, or when we find ourselves crippled by the limitation of our own bodies, or when we are just at our wit's end. But what I love most about Valley of Want is the way it refuses to deliver a catalog of sad complaints. No! White's poems demand we see the fullness of this beautiful world—that we keep looking, that we turn through the darkness and take in the world's most tender joy." —Nandi Comer
The Polite Society
Unicorn Press, 2017
What is the spirit of our age, and what are the consequences of that spirit? The Polite Society pursues these questions, urging readers to ignore politics in its infamous, decadent sense and focus instead on how we might still work together to flourish together.
"Seamlessly the beautiful poems of Ross White's The Polite Society traverse the page, but then, reading, you are struck by the sense of language as suddenly all the more mysterious—language, that is, as the ultimate system, frighteningly capable of both negotiation and song. If 'the system' threatens an all-encompassing politics, which it might, resistance is found in ourselves, our own imaginations. These poems are the proof."
—Sally Keith, author of River House
"The Polite Society is exactly the kind of work we need to be doing as writers and as human beings. In these gorgeously crafted poems, White examines not only our broken system of government but the systems of thought that broke it—and threaten to break us. He does not flinch, and through his deconstruction of the prejudices we have so politely ignored, White offers the hope of reconstructing a society based on open-eyed understanding."
—Emma Bolden, author of Maleficae
"In poems both brutal and beautiful, Ross White compels us to confront our numbness, our complacency, and our 'burden / of guilt.' In the contexts of colonial history, unchecked police and military forces, and both domestic and global unrest, White's poems revisit and revise notions of the American dream, shedding a bright light on the high cost of engaging in a 'civil' society. All the while, White holds himself, his work, and all of us accountable. His poems point to our shared complicity in the brutalities that mar human interaction, from a troubled father-son relationship to the global forces of imperialism."
—Dilruba Ahmed, author of Dhaka Dust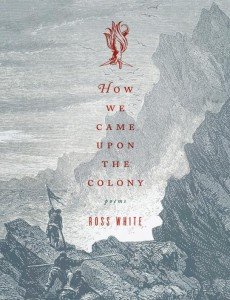 How We Came Upon the Colony
Unicorn Press, 2014
"This is one of the most substantial chapbooks I've ever read. In only seventeen poems, Ross White guides his readers to a colony of the imagination – a world of vivid and coolly unsettling words – that is timeless yet contemporary, specific in detail yet mysterious in design, paradisiacal yet troubled. He is a poet of great intelligence and wit and precision, and he commands an impressive range of forms and modes while sustaining a lucid unity of tone and voice. How We Came Upon the Colony is a powerful, darkly funny, refreshingly un-self-centered, humane, and deeply satisfying work from one of our very best young writers and editors." -Michael McFee
"How We Came Upon the Colony asks just what histories rest in the background. It further interrogates the hierarchies of those histories. IIn reading this book we are travelers moving through eras and between various sites of cultural confrontation, from Rome to the Caribbean to the public schools of North Carolina where we are met with commentary from the Patron Saint of Teachers and Singers to the Colonial Governor of the Bahamas. White is a writer who doesn't just value his own story, but can connect the personal to the collective in a way that illuminates both. Noting, 'What care we take not to disturb the albatross,' White then goes on to ruffle the antique feathers of a bird that in our narratives takes on the sojourner's longings and woes like a sin eater. If this book is any indication, we can expect White to continue to write poems that soothe and rile and ultimately provide us with a numinous experience. How curious that in maturity the albatross is compelled to return to its colony of origin. White in this compassionate and compelling premiere looks bravely back to draw us forward." -Vievee Francis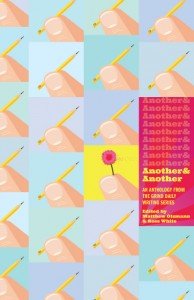 Another & Another: An Anthology from the Grind Daily Writing Series
edited by Matthew Olzmann & Ross White
"Not only will this anthology be delicious fodder for those interested in the state (and the future) of American poetry, the concept should be inspiring to just about anyone who has projects they keep putting off until tomorrow."  —Flavorwire
In October 2007, four writers came together to write a new poem each day.  What evolved was one of the most compelling writing communities active in the U.S. today: The Grind Daily Writing Series.
The "rules" have evolved a little bit, but they're still basically the same: each day, participants write—and finish—something. The Grind has had over 300 participants, has gone international, and poems drafted in the Grind have showed up in the best journals in the country, in books from amazing publishers, and in anthologies recognizing some of the best poetry in the country.
Another & Another  was listed as one of "10 Essential Alternative Anthologies for the Modern Reader" by Flavorwire.
Another & Another: An Anthology from the Grind Daily Writing Series celebrates the first two years of the Grind, featuring poems by:
Dilruba Ahmed
Richard Allen
Larissa Vidal Amir
Mark Andres
Dara Barnat
R. Dwayne Betts
Tamiko Beyer
Tommye Blount
Jonathan Bennett Bonilla
Joshua Buursma
Zena Cardman
Amanda Carver
Ching-In Chen
Nandi Comer
Nicelle Davis
Chiyuma Elliott
Vievee Francis
Emily Kendal Frey
francine j. harris
Tina Mozelle Harris
Jenny Johnson
Henry Kearney IV
Angie Kirby
Megan Levad
Karen Llagas
Chloe Martinez
Jamaal May
Karyna McGlynn
Myron Michael
Sally Molini
Victoria Bosch Murray
Matthew Olzmann
Shann Palmer
Soham Patel
Matthew Poindexter
Khadijah Queen
David Ruekberg
Travis Smith
Rachel Berry Surles
Sheera Talpaz
Mary Jo Thompson
Angela Narciso Torres
Rosalynde Vas Dias
W. Vandoren Wheeler
Arisa White
Ross White
Laurie Saurborn Young